Been a rather quiet few weeks for the Fins of late. I do want to chime in though on a few topics surrounding the Dolphins as we inch closer to the Draft at the end of the month.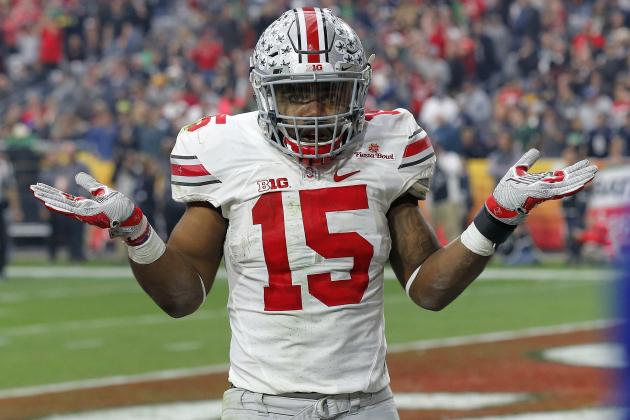 -The Dolphins set up a meeting with RB Ezekiel Elliot of Ohio St. He is the guy who has Dolphins fans drooling as the NFL Draft draws near. He is probably the guy who if he is off the board by #13 or if Miami just doesn't take him will have the vast majority of Dolphins fans up in arms and with the pitchforks out in anger come April 28th. I said this on twitter the other day and come April 28th I may be 100% dead wrong but I firmly believe there is no chance in hell the Dolphins take Elliott at #13 if he is on the board. It makes zero sense. For one you have a head coach who went on the record as saying he likes a running back by committee approach and using more than one guy. Second, the Dolphins defense is a dumpster fire right now. Aside from Safety and DT the rest of the defense is very poor. Old at DE, no linebackers that are any good on the roster, and 1 CB who had mild success a few years back 2 teams ago. The Dolphins can literally throw a dart at any 1st round prospect defensive player and he will start from Day 1 and be an upgrade over any existing player currently on their roster. On top of that you have an offensive line that is always injured and not great by any means, so if the Fins went with a tackle or guard they are going to start as well and be an upgrade. Taking a running back in Rd 1 is a total luxury pick. When you have a team that isn't above .500 and flat out bad, you don't do luxury picks. Elliott is a smoke screen hopefully or if he is on the board at #13, hopefully another team offers Miami something to trade up and get him and Miami can trade down and add more picks. I would be stunned if Miami takes a RB in round 1. Just don't see it.
-I haven't gotten an update yet on the Miko Grimes story below. Last I was told she was still in talks with the Esquire Network involving being part of the Friday Night Tykes franchise.
-The "Succession Plan" of Dolphins ownership and Stephen Ross was a hot topic this week. To me, this is the beginning of the end of the Stephen Ross era as Dolphins owner. This will move sooner than many think and my prediction is Ross is out as owner within 24 months. And one thing nobody is talking about, Beal and Ross are very close. If/when Ross passes the Fins (assuming via sale and not death) on to Beal, the franchise in the eyes of many is pretty much still in the Ross family. Beal is very close with Ross, hell he works for his real estate company and runs it for him! So, it would be a case of Ross being out as owner in name only, but still being at games and being around the franchise and such. He just wouldn't have a financial stake in the franchise and not be involved with the day to day operations.
Ross in 2013 gave away $200 million to the University of Michigan. Bringing his total up to a $313 million in donations he has given to the school in his lifetime. He also has more money allocated to go to Michigan upon his death. Now we have this news about the Dolphins ownership. Ross is clearly looking to "simplify" his life these days and winding down into his later years. There have also been stories that Ross isn't happy as an NFL owner. That in his other fields of business he has won and been super successful by outspending his competition, out working his competition, and hiring away anyone he wants from his competition. In the NFL you can't do that. There are rules, there is a salary cap, and you can't step on toes of people in the NFL as you will get black-listed (as what happened shortly after the Tony Sparano/Jim Harbaugh debacle.) Ross's family is also a group that does not want to own an NFL franchise. There in lies Bruce Beal Jr. A 40 something who has had life handed to him on a silver platter. Someone who was born on 3rd base and thinks he hit a triple. He comes from a rich real estate family and he himself has worked for Stephen Ross in NYC real estate for many years.
Not a surprise Ross might want out from the day to day grind and media scrutiny of being an NFL owner. Ross has already left his mark on the franchise. Ross's legacy will be the stadium and the team staying in South Florida for 30 more years. The rebuild, the roof, the luxury state of art stadium that will be up by the end of the year, that's Ross's Dolphins legacy. Certainly it isn't and won't be anytime soon anything taking place on the field. It would not shock me in the least to see Ross sell (essentially give the team away) to his buddy and co-worker Bruce Beal Jr. Letting Ross take a back-seat role and just be a glorified fan who is in the owners box at every home game with his friend Bruce. To me, this is where this is all headed and I see it happening rather quickly.