Xavien Howard will be a future star
I know, I know, it's painful at times to be a fan of this team. The first two weeks have been very painful to watch. Week 1 Miami had Seattle beaten and of course they let Seattle score the winning touchdown with seconds left and the Fins grabbed defeat from the jaws of victory. Then this past Sunday the Fins let a virtual unknown QB who has 1 real game under his belt go up and down the field and look like Joe Montana in his prime. If that wasn't bad enough the Dolphins come crawling back into this game to make it a one score game with the ball and under a minute to go to only fall short of tying the game in the final seconds. Kicked in the gut once again.
Now, I know many Dolphins fans are (for lack of a better word) pissed off. They are pissed off from the last 15 years, they are pissed off from how the team lost Week 1, and they at really pissed off from how the Fins looked in the first half of the game this past weekend. I get it, and nothing I say here is going to make that anger go away. But a couple things to remember; 1) If anybody expected Miami to start the year 2-0 with road games vs Seattle and New England you were living in fantasy land to begin with. 2) If you thought this team was going to make the playoffs this year, again you were living in a fantasy world.
Everyone needs to take a step back and take a big deep breath and put things into perspective. The Dolphins are at 0-2 where many level headed fans thought they would be. And honestly the Fins have looked good for 6 out of the 8 quarters they have played this year. This team is very young in many key spots and that youth shows up at times. The Dolphins secondary is very young with a first year CB and a 2nd year CB as the nickel back. With Arian Foster out the Dolphins are very young and inexperienced at running back. At defensive tackle with no Earl Mitchell the Fins are rotating in and giving Jordan Phillips and Julius Warmsley significant snaps. These aren't excuses these are facts. This team is playing a lot of young players in key positions.
Every couple games this year I am going to take a "snapshot" as to where we are in time as a team and make a couple observations. Here are a few things that stand out after the first two games of the year.
-Xavien Howard is going to be a stud CB. This kid missed all of training camp and played only a few plays in the final meaningless preseason game. And through two games he has looked outstanding. If this kid continues to grow as a player and keeps this level of play up he is going to be a solid CB in the NFL for many years to come and come January I wouldn't be shocked if he is this teams #1 CB heading into 2017.
-On the flip side; Bobby McCain can't play in this league. He is too small and overmatched. I'm sure he is a nice person and a good guy, but much like Tony Lippett; McCain just can't play. A lot of the Dolphins problems in the secondary come from teams are able to spread us out and take advantage of our lackluster corners. Howard is playing well, Maxwell is playing ok too….after that the Fins don't have a CB on their roster who can cover anyone.
-This offensive line needs Billy Turner. As I mentioned prior to the season, the Fins o-line can pass block with the best of them. Tannehill isn't getting hit as often as years past. But this unit can't run block to save their life. Billy Turner, who can run block but is so-so in pass protection, needs to see the field when Pouncey gets back. I am hesitant to make this move now because I don't want Turner and Steen next to each other in meaningful games. But when Pouncey gets back Turner has to start and Bushrod needs to find the pine. The Dolphins running game needs a boost and Turner can provide it.
-Jay Ajai can just go away. He is fumbling away the ball a lot, he can't pass block to save his life, he is a bit injury prone, and oh yeah after he was told he wasn't the starter he pouted and was left behind for Week 1. Enough…..just enough. Even with Foster out I don't want to see Jay Ajai anymore. Damien Williams needs to be the starter, Kenyan Drake you use in certain packages, and if Pead is healthy he is the 3rd RB until Foster returns. The Jay Ajai era is over before it started in Miami. He must go!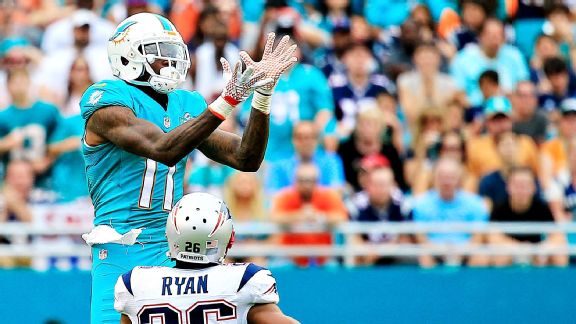 -DeVante Parker can be a superstar. Like top 3 WR's in the game level superstar. But he needs to take care of himself and ensure he is on the field each week. Parker was magnificent vs New England this past week and he ended last year on fire as well. IF Parker can stay healthy (huge IF with him) he and Landry at as good a 1-2 WR punch as there is in this league.
-Everyone needs to get off Ryan Tannehill for like 5 minutes and just let the season play out. I know the Tannehill haters get some sick joy out of just bashing him endlessly day after day and week after week. Hell there is one simple minded beat reporter for the Dolphins who get's his jolly's off bashing the kid for some reason. I get it, many of you don't like him. Your voices have been heard, the rest of us who either support him or don't have a strong feeling either way on him get it. We hear you.
With that said, I could make a list of problems on this Dolphins roster right now and Tannehill wouldn't crack the Top 10. Ryan Tannehill has played 2 games for Adam Gase under this new offense, both on the road vs teams that have won Super Bowls in the last 3 years. Let Tannehill play 1 full season under Gase. Let him have some games to get his feet wet in this offense that are at home vs non Super Bowl caliber teams to see if he is making progress. And come the final whistle of Week 17 and the 2016 season if there is regression or not enough improvement, then fine maybe it is time to move on. But this constant never ending bashing of the kid is old and tired.
We get it, no matter what Tannehill does some of you, a large group of you will never like him….EVER! Fine, you don't have too and you are entitled to hold that opinion. But give this kid a chance behind an o-line that is somewhat competent (something he has never had till now,) with a full group of healthy and talented WR's (something he has never had till now,) and a head coach who has a clue about modern football (again, something he has never had till now.) Just give him 14 more games without the constant bitching and moaning each week about every little thing he does. Some of you fans want perfection, hate to break it to ya, no QB is perfect and you are not going to replace Tannehill with a perfect QB. Tannehill is good. He doesn't suck but he isn't great. Some of you think "good" sucks and want perfection. Just because you don't have "perfection" you want to throw "good" to the curb. If after this season plays out Tannehill doesn't get better or isn't playing good enough…then spread your hate loud and proud for the world to hear. Until then, sit down and shut up!
So those are some observations I have 2 games into the season. This week Miami should have a win vs Cleveland and their 3rd string QB. Won't get too excited over that but also its a game the team should win easily. Then it's a short week to Cincinnati and that will be no easy task. The Fins first part of the schedule is tough, we knew that in April. The team isn't quitting and they are playing hard for Gase which is a good sign. They just now need to translate that into some wins.