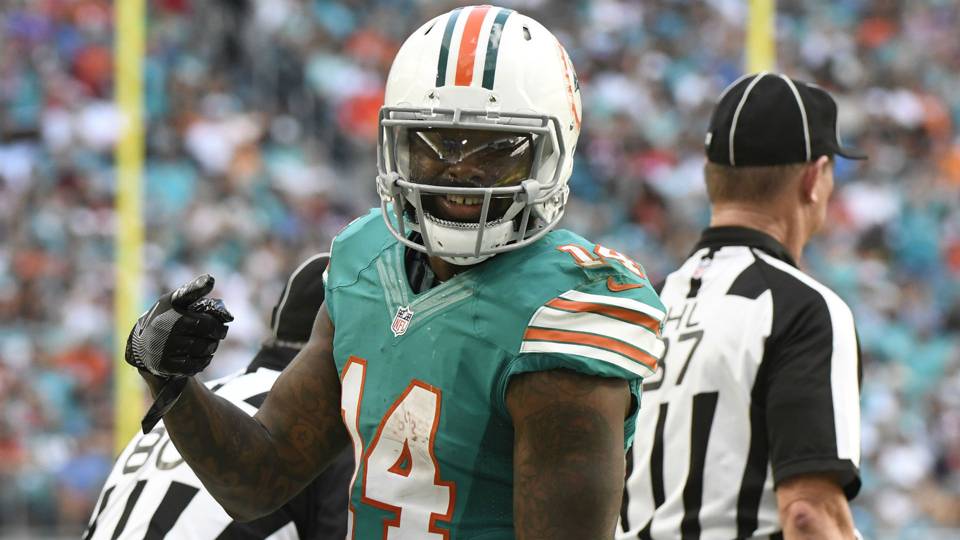 We have hit a lull in the offseason. With plenty of news coming out about Branden Albert trade as well as the Dolphins acquiring Julius Thomas, one thing has flown under the radar. The Jarvis Landry extension.
There is no hidden secret the Miami Dolphins want to keep Jarvis Landry long term. But what is his worth? Lets start with this:
The Miami Dolphins for years have been searching for that competitive fire. Every practice, every game, every rep, Jarvis Landry has that fire. He is confident in his route running, he has phenomenal hand eye, as he catches just about everything and he NEVER gives up until the whistle blows. He is physical with run blocking and he agitates his opponents with his no quit attitude. Landry is a locker room leader and has been since he arrived in 2014. You don't let leaders go, especially when they are scratching the surface of being elite. Yes, I said ELITE.
Jarvis Landry is considered a slot receiver by many around the NFL. He is much more. He is a do it all receiver. He can line up anywhere. Remember his run on an end around 2 years ago against the Titans? How about the crossing route against the Texans where he made the ENTIRE defense miss tackling him? How about the one handed grab against the Colts? These are just examples of WHAT he can do. It's not about WHERE he lines up. So when it comes down what his contract will look like, lets first look at him statistically against his own draft class:
Jarvis Landry: 288 REC, 3,051 YDS, 13 TDs
Sammy Watkins: 153 REC, 2,459 YDS, 17 TDs
Mike Evans: 238 REC, 3,578 YDS, 27 TDs
Odell Beckham Jr: 288 REC, 4,122 YDS, 35 TDs
Brandin Cooks: 215 REC, 2,861 YDS, 20 TDs
Marquise Lee: 115 REC, 1,461 YDS, 5 TDs
Kelvin Benjamin: 136 REC, 1,949 YDS, 16 TDs
Davante Adams: 163 REC, 1926 YDS, 16 TDs
He is a cog in the Dolphins offense. He is tied with his best friend OBJ in catches, 3rd in yards. While many will say "he isn't worth X amount per year because he doesn't score TDs", think about this: He has converted 160 first downs for the offense, he has gone from 9 yards per catch to just over 12 in 3 years. So while he doesn't hit the endzone as much as his counterparts, Jarvis Landry does PLENTY to get the team in position to do so.
In closing, Jarvis Landry is a player not to be taken lightly in negotiations. Adam Gase knows his worth, Ryan Tannehill certainly knows his worth. Mike Tannenbaum and Chris Grier need to come out with an offer too good to pass up right out of the gate. Throw away the "slot receiver" mentality. Landry needs to be paid and be paid well. I can't give you a dollar amount on what it will look like, but Jarvis Landry's worth to the Dolphins is priceless. The team needs to get it done, and they need to do it now and not wait.
@ternisse13