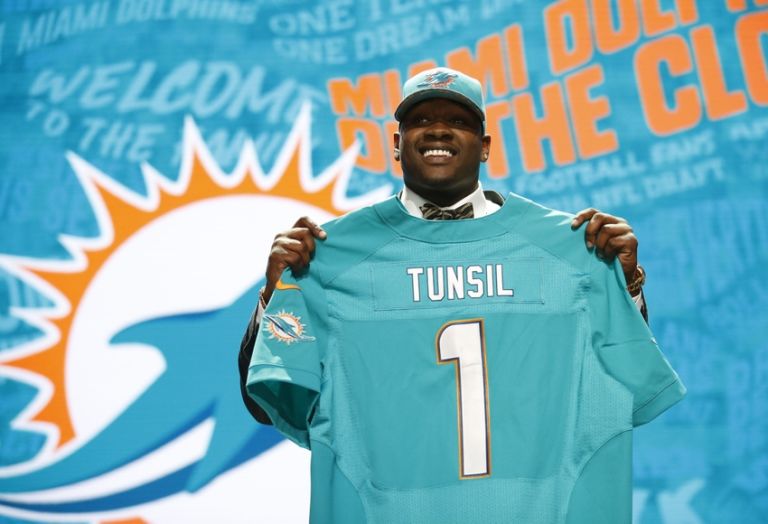 Now that free agency frenzy is winding down, it's time to look at the draft. We are 6 weeks out but now is the time to get some idea of who the Dolphins will be looking at with their picks. Here we go!
Round 1 (22)- Hasson Reddick- OLB Temple- In this scenario, Taco Charlton and Zach Cunningham are off the board. The Nate Allen signing helps at safety, which is why I don't have Peppers here. Reddick is a do it all OLB. His stock has risen based on his Senior Bowl performance and his workouts. He brings a great ability to cover sideline to sideline against the run (huge need for the worst run D in the league). He squares up well on tackles and is explosive when he hits. His biggest asset is on 3rd down, where he can disrupt the QB on blitz and is great in zone coverage. I love this pick if it happens on draft night, and the Dolphins will have their LB corp taken care of in round 1.
Round 2 (22)- Ryan Anderson DE/OLB Alabama– At 6'2, 253lbs, the Dolphins take Ryan Anderson here. He solves the age problem on the edge and is capable of putting his hand in the ground or standing up and covering someone. He has good instincts and decent athleticism. Plays with a never ending motor and comes from a great system. While he struggles at times against the run, he does well with good leverage and uses his hands well. His ability to line up in multiple positions gives the Dolphins flexibility and the defense continues to mold with their first 2 picks.
Round 3 (33 Comp)- Nico Siragusa- OG San Diego State– Miami influxes some youth in front of Ryan Tannehill with this pick. The 6'4 320lb guard is very good in both run and pass blocking. He blocks well on trap and pull plays and gets to the second level nicely. He had a good combine and should be in line to start if drafted here. Bushrod will also provide to be a great mentor to the young man and should line up year 1 on the left side next to Tunsil.
Round 5 (22)- Montae Nicholson- S Michigan State– With not going with Peppers in round 1, the Dolphins grab a potential future starting safety in round 5. Nicholson is a physical presence at 6'3 212lbs. He is physical at the line of scrimmage at running plays and doesn't shy from contact. He does need some work with coverage skills but did have 4 INT and 4 PBU in 20 starts. If he can improve as a deep safety and continue to develop as a solid run defender, the Dolphins may have found someone nice to pair with Reshad Jones
Round 5 (34 Comp)- Nazair Jones- DT North Carolina
– With striking out on Dontari Poe and not looking to spend a ton, the Dolphins add depth with Jones. 6'5, 305lbs, he is a great run defender. He is quick for his size and able to get inside the gap to make tackles. While he lacks the ability to rush the passer, Suh can give him all the tools he needs to succeed. He is willing to get dirty and mix it up at times after the whistle. He also can knock down passes at the line (10 in career at UNC). A solid pick here.
Round 5 (40 Comp)- Josh Malone- WR Tennessee- With Carroo not being liked by coaches currently due to immaturity, Dolphins bring in Malone to compete. He is a big bodies flyer, who averaged close to 20 yards per catch in 2016. He basically has the ability of Kenny Stills and could be a good options as a 4th/5th WR if he makes the roster. Gase will fall in love with his speed inside against nickel CB and Safeties.
Round 7 (5)- Zane Gonzalez K Arizona State- I am a firm believer you take a kicker in round 7 if one is available. Gonzalez will provide competition for incumbent Andrew Franks. He was a perfect 5 for 5 on 30-39 yard field goals (extra points), 6 for 6 on kicks from 40-49 and a whopping 7 for 9 on kicks beyond 50. If he can make a good impression, Franks will be out and Gase won't be afraid to put Gonzalez on the field for kicks beyond 45 yards.
This could be a decent draft if the later prospects pan out and add depth to the roster. I may be crucified for taking a kicker but round 7 is a flier pick anyways.
Don't be afraid to let me know how I did on this first mock of 2017 Dolphins mock draft. Follow us +Dolphinstalk.com . I will be back again next week with another mock.
@ternisse13