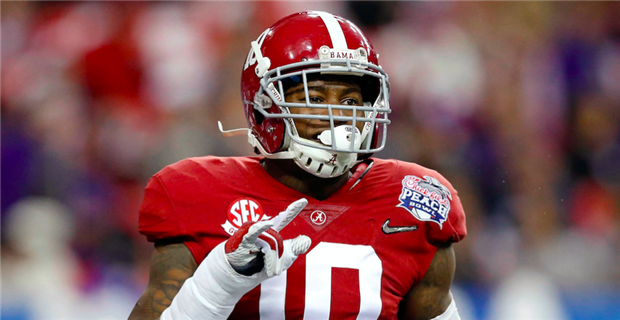 Another year, and another troubled blue-chip SEC prospect appears headed for a draft day tumble.
Flash back to the 2016 NFL Draft and just moments before the draft was set to begin, an ominous video was leaked to the media. This video was depicting stud Ole Miss left tackle prospect Laremy Tunsil smoking a substance through a bong with a gas mask.
In what was almost certainly the worst possible time for a video like this to be leaked, NFL teams panicked and the video subsequently threw Tunsil's draft stock into a freefall. We later learned that his Twitter account was hacked prior to the draft.
A player most considered a top 5 pick at the very least was getting passed up by lesser heralded prospects, simply because teams were weary of these newfound circumstances.
Sitting comfortably at number thirteen overall without a seemingly strong need for a OT, the Dolphins found themselves with no choice but to pounce on a player that NFL.com's Gil Brandt deemed as a "Hall of Fame-level talent".
Flash forward to the 2017 NFL Draft, and the Dolphins have positioned themselves very nicely to follow the same formula again. Even though the pick comes later this year, it appears that with a week away the team will be content to sit and let the draft play out.
The reason why this scenario is so interesting, is because the Dolphins may yet again be staring at another player of Tunsil's caliber this year when they make their selection. And this player also comes with his share of red flags. That player is Alabama linebacker Reuben Foster.
Reports began to surface this past Thursday that Foster submitted a dilated urine sample for drug testing at the NFL Combine in February. By rule, this means the Alabama product will enter the NFL's Substance Abuse Program before ever playing a snap.
The fallout appears to be fierce, with former NFL Network analyst Michael Lombardi stating Friday that:
"Teams picking between 33-45 will need to make sure they are comfortable with R. Foster, cause he will be there."
There is no denying that on talent alone, Reuben Foster is a sure-fire top 10 pick. The same was said about Laremy Tunsil before the 2016 NFL Draft.
It remains to be seen how the draft will pan out; however, with an immediate need at outside linebacker, the Dolphins may be in a perfect position to pluck Mr. Foster at the twenty second pick this Thursday.
Once again, the Dolphins may be able to benefit from a player's past transgressions and use them to gain a competitive advantage. And I, for one, am all for it.