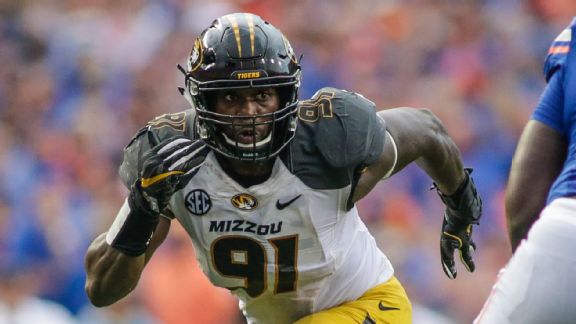 Below, I have taken the liberty of breaking down each
Dolphins' Draft pick for 2017. The Grade will be determined based on the value
available at each selection combined with how quickly these players can
contribute to the team during the 2017-2018 season.
1.
Charles Harris – Defensive End – Missouri
·
The Miami Herald's Barry Jackson noted a week ago
that "the Dolphins this year told one high-end front seven defender that they
didn't need to use one of their 30 visits on him because they feel good about
his ability without bringing him in." It appears that player was Charles
Harris. Harris was one of 5 players I had pegged on Thursday that could be
available at 22 and I would have preferred for Miami. That being said, Miami
did pass on some players with slightly more value like Reuben Foster and David
Njoku. In the end, Harris fills a slightly bigger need in the pass rush
department and the value between the three is negligible at best. This was
likely the final determinant in who the selection was going to be. Harris was
highly productive as a pass rusher at Missouri (18 sacks in 3 seasons). While
he is not an elite athlete at the positon, Harris is a real technician of the
game. He vows to learn everything he can from fellow defensive end Cam Wake and
appears to love the game a great deal. Final
Grade: A
2.
Raekwon McMillan – Inside Linebacker – Ohio State
·
Another player that made my short list for the
team at selection number 54. McMillan is a tackling machine, evidenced by his
275 stops in three years starting for the Buckeyes. He has tons of experience
in the middle and if Chris Grier's post-draft press conference comments are any
indication, that is the position he will man for Miami. Many pundits projected
Zach Cunningham as a better value at this draft slot, but I give McMillan the
nod as the better selection and fit overall. With McMillan's above average
athleticism at the position (4.61 40 and 33-inch vertical at the Combine), this
gives the team newfound flexibility at the linebacker position. I was very
pleased with this pick and fellow Dolphins fans should be as well. Final Grade: B+
3.
Cordrea Tankersley – Cornerback – Clemson
·
The Dolphins' third round selection was another
solid one. Tankersley is the big boundary corner the team was looking for.
While he struggled in the broad jump and vertical jump, the big corner managed
a 4.40 forty at the combine for a 6'1" cover man. He is exactly the type of corner
that Miami is looking for to pair with and maybe replace Byron Maxwell
following the 2017-2018 season. The Clemson product had a bit of a down year by
his standards in 2017, but he was also targeted far less with the graduation of
former second round running mate Mackensie Alexander. He lacks the desire in
run support and tends to grab receivers a little more than you would like. That
being said, he has excellent size and ball skills for the position and was a
tremendous value pick at number 97 overall. Final Grade: B
5. Isaac Asiata
– Offensive Guard – Utah
·
The team's fifth round selection was based
greatly on a combination of need and value at the 164th pick. Asiata
was valued much higher than where the team got him and I have a feeling they
are very grateful that he was still available. Asiata fills another big need
for this team and will likely compete with free agent addition Ted Larsen at
Left Guard. He is an absolute mauler in the run game and that should bode
greatly for running back Jay Ajayi. A phone booth type at the guard positon,
Asiata was the strongest player at the combine, managing an absurd 35 reps at
225 lbs. Final Grade: B+
5. Davon
Godchaux – Defensive Tackle – LSU
·
The first of two mammoth defensive tackle picks
for Miami. Godchaux is a high-upside, high-motor selection at the position and
gives the team a nice rotational piece behind starters Suh and Phillips. Coach
Orgeron spoke very highly of Godchaux and this appears to be a player with his
best football in front of him. The LSU product was a highly ranked DE prospect
coming out of high school and provides above average athleticism at the
defensive tackle position. Final Grade: C+
6. Vincent
Taylor – Defensive Tackle – Oklahoma State
·
The second of Miami's two defensive tackle picks
in this draft may be the most exciting. Taylor has vines for arms (34 ¾ inches)
and racked up seven sacks as well as an FBS-leading four blocked kicks. Taylor
should really shine in pass rush situations for the team and figures to play
early in these situations and on special teams. Plays a little high but has
some serious upside with the right coaching. Final Grade: B-
7. Isaiah Ford
– Wide Receiver – Virginia Tech
·
A favorite of the draft community prior to the
season. I had Ford pegged as a possible first rounder going into the season.
Doesn't play very strong or physical and could have a little trouble with
bigger corners in this league. Ford also disappointed at the Combine, only
turning in a 4.61 40-yard dash. This is not totally indicative of his
athleticism; however, as Ford was a star basketball player in high school and
turned in a 35 inch vertical in Indianapolis. This was another nice value pick
for the Dolphins regardless. Final
Grade: B
This draft may not have been the flashiest, but it may have
been the most solid one I have seen in a long time. Quality players were
selected at positions of need at every one of the team's selections. There is
also considerable upside with each of the picks the Dolphins made and only adds
to the youth and potential this team already had. There is also something to be
said for the conviction the team showed during this draft process. The front
office identified the players they needed at each position and were decisive in
each selection they made. It seemed that each time the Dolphins were on the
clock, their pick was in before the crowd had settled from the previous draft
choice. It is clear there is a direction for this team and that is the biggest
lesson learned from this offseason and draft process.
Overall Draft Grade:
B+