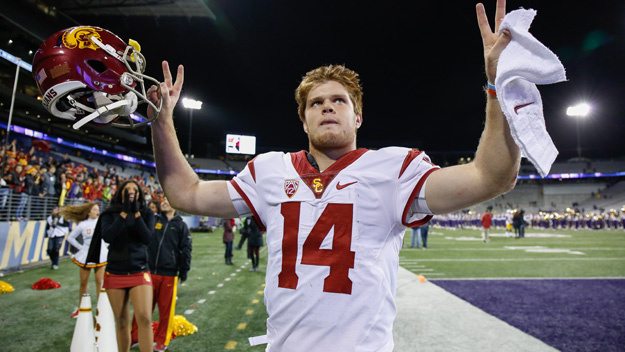 Well, ladies and gentlemen, the 2017 draft is in the books. A lot will happen between now and next April, but here is a little sneak preview of the talent pool as we head into the 2017-2018 College Football season.
Just to simplify things, I kept the order the exact same as the 2017 version. Who might be donning the Aqua and Orange this time next year? You'll have to read to find out…
1.
Cleveland Browns: Arden Key – Defensive End –
Louisiana State
Quick
take: Another Defensive End number one overall for Cleveland? Hear me out! I
don't expect the Browns to be selecting first again in 2018, but I decided to
keep the order the same as 2017 as to avoid any hurt feelings. Key is a top 5
prospect and as long as he clears up his issues off the field, he will
definitely be in contention for this pick. He has spent some time away from the
team this offseason, but appears to have bulked up in the meantime, weighing in
recently at 255 lbs. This will only help him as he looks to solidify himself as
the nation's best player.
2.
San Francisco 49ers: Sam Darnold – Quarterback –
Southern California
Quick
take: After his eye-opening redshirt freshman season and tremendous bowl effort
against Penn State, Darnold is widely considered as the top QB prospect heading
into next college football season. John Lynch is still looking for a new face
to the franchise and why not go with the local guy. This seems like a dream
scenario for both sides.
3.
Chicago Bears: Tarvarus McFadden – Cornerback –
Florida State
Quick
take: The team took steps to improve the future of their offense following the
retirement of longtime QB Jay Cutler. However, they almost completely ignored
the defense in the 2017 draft. Many had them pegged for CB Marshon Lattimore,
but I think McFadden is an even better, more polished prospect at this point. A
former highly regarded high school prospect, McFadden tied for the NCAA lead
with 8 interceptions in his first full season as a starter for the Seminoles.
4.
Jacksonville Jaguars: Josh Allen – Quarterback –
Wyoming
Quick
take: Some believe that Allen would have been the top selected QB in the 2017
Draft, had he left school early. He will once again be among the top signal
callers available for the 2018 version. The Blake Bortles experiment should
finally come to a crashing halt this year, so Coughlin will be ready to find
his successor with this 6'5" gunslinger from Wyoming.
5.
Los Angeles Rams: Mike McGlinchey – Offensive
Tackle – Notre Dame
Quick
take: Rumors are that McGlinchey received a first round grade from the NFL
advisory panel prior to deciding to return to school for his senior season.
That being said, he will likely be among the first players selected in 2018,
barring injuries. Former top picks like Greg Robinson and Rodger Saffold have
failed and the Rams need a true future blindside protector to succeed big free
agent addition Andrew Whitworth.
6.
New York Jets: Saquon Barkley – Running Back –
Penn State
Quick
take: There are rumblings that Bilal Powell could unseat Matt Forte as the
full-time back in 2017 for Gang green. Now, this could be due to Forte's age,
injuries or both. That being said, it appears the Jets will be in the market
for a true workhorse following the year and Barkley is a stud. He will likely
follow Leonard Fournette, Christian McCaffrey and Ezekiel Elliott as another
top ten selection at the running back position for the third year in a row.
7.
Los Angeles Chargers: Josh Rosen – Quarterback –
UCLA
Quick
take: Rosen's off-field behavior and mechanics leave a lot to be desired, but
there is no doubt about his talent at the position. If the Bruin can put it all
together in his junior season, he will most likely be looking at a first round
selection next April. A top-ten pick can also not ruled out if Rosen performs to
expectations.
8.
Carolina Panthers: Minkah Fitzpatrick –
Cornerback/Safety – Alabama
Quick
take: While James Bradbury has been a pleasant surprise for the team, it will
all depend on how quick of an impact fifth rounder Corn Elder can make. Elder
and fellow starter Captain Munnerlyn are better suited for slot duties, so
Carolina could be looking for a bigger corner to pair with Bradbury on the
outside. The team faces no dearth of big receivers in this division like Julio
Jones, Michael Thomas and Mike Evans, so a bigger corner makes some sense here.

9.
Cincinnati Bengals: Orlando Brown – Offensive
Tackle – Oklahoma
Quick
take: The bloodlines are obvious here, as Brown is the son or former NFL
offensive tackle Orlando "Zeus" Brown. This is a mammoth offensive lineman with
long arms that will probably be viewed as some as a right tackle, but I think
he has enough foot quickness and length to make it on the blindside. Cincinnati
lost long-time left tackle Andrew Whitworth to free agency, so Orlando fills a
BIG hole here.
10.
Buffalo Bills: Derwin James – Safety – Florida
State
Quick
take: Already drawing a few Sean Taylor comparisons as a big centerfielder
type, James will need to prove he can stay healthy this season to live up to
expectations. A bigger version of Browns' 2017 first rounder Jabrill Peppers,
James will also need to improve on his awareness and ball skills in the
secondary, as he only boasts one career interception. He is a chess piece
player on defense, one that moves around and seems to play well wherever he is
placed. Health and consistency will be key factors in where James is
selected.
11.
New Orleans Saints: Christian Kirk – Wide
Receiver – Texas A&M
Quick
take: At this point, the name of the game will be extending Drew Brees' career
and giving the Saints the best chance to win now. Michael Thomas is the big
receiver here and Snead is a great slot receiver, but Thomas could use a
running mate on the outside with the loss of Brandin Cooks. Kirk is a former
5-star recruit and has been a real weapon for the Aggies since arriving on
campus two years ago.
12.
Philadelphia Eagles: Malik Jefferson –
Linebacker – Texas
Quick
take: The Eagles did a great job this offseason upgrading their talent on
offense and grabbing some reinforcements on defense. The team still feels
unsettled at the linebacker positon, where Mychal Kendricks seems to be the
subject of trade rumors every offseason. He's owed almost 6 million in 2018, so
if the team deems that too pricey, they could look to add his replacement here.
Jefferson has played inside and out and could be a nice addition next to fellow
Longhorn alum Jordan Hicks.
13.
Arizona Cardinals: Mason Rudolph – Quarterback –
Oklahoma State
Quick
take: 2017 looks like it could be the last season for QB Carson Palmer, and the
Cardinals are very thin on long-term options behind him. The team missed
out/passed on all signal callers in the 2017 draft, so they will surely be
looking for one early in 2018. Rudolph is a big, strong-armed passer with
perhaps the best resume of all quarterbacks on this list, but could slide a bit
if deemed a system quarterback.
14.
Minnesota Vikings: Vita Vea – Defensive Tackle –
Washington
Quick
take: Former first rounder Shariff Floyd's future is up in the air and the
Vikings don't have much behind Linval Joseph. They used a fourth rounder on
Iowa's Jaleel Johnson, but Vea is a vastly superior prospect all-around. Vea is
a monster at 6'5" 322 lbs and moves very well for his size. He would anchor
this defense for a long time and could very well be off the board long before
this pick. If the Huskie is there, he would be a great selection.
15.
Indianapolis Colts: Sam Hubbard – Defensive End
– Ohio State
Quick
take: Many pegged Indy to snag a pass rusher early in the draft, as they have
certainly struggled there in recent years. However, they decided to go Malik
Hooker and the position will likely be a big need again heading into the 2018
draft. Tarell Bashem from Ohio was added in the 3rd, but grabbing a
stud like Hubbard would be a no brainer for the Colts here. Hubbard is a
polished pass rusher and can also anchor against the run. A poor man's Joey
Bosa.
16.
Baltimore Ravens: Calvin Ridley – Wide Receiver
– Alabama
Quick
take: The Ravens lost future Hall of Famer Steve Smith and did little to
replace him this offseason. It appears as if the team is placing a lot of hope
in former first rounder Breshad Perriman to break out. I am skeptical that
Perriman can be the true number one that Joe Flacco needs, and adding a
playmaker like Ridley could go a long way. Ridley stepped right into Amari
Cooper's shoes at Alabama and has filled them well. He looks like a first round
lock.
17.
Washington Redskins: Jordan Whitehead – Safety –
Pittsburgh
Quick
take: A lot of 2017 mock drafts had Washington selecting a secondary player,
most notably former Michigan safety Jabrill Peppers. Whitehead is a poor man's
Peppers, functioning as a two-way player at Pittsburgh. He has made notable
contributions as a safety and wide receiver. If he is allowed to focus on
defense this season, Whitehead could put together a very nice campaign. An
All-ACC 2nd Team selection in 2016, he must prove healthy after
missing the final 3 games.
18.
Tennessee Titans: Da'Shawn Hand – Defensive End
– Alabama
Quick
take: Tennessee could use an upgrade on the strong side at defensive end over
DaQuan Jones. Depending on how Hand develops, he could be long gone by this
selection. A former top overall recruit, Hand has massive potential. And with
the losses of Jonathan Allen and Dalvin Tomlinson, he will finally have an
avenue to show his ability in Tuscaloosa. Hand would make a perfect 5-Tech for
Dick LeBeau's defensive scheme and would be a big boost to Tennessee's front
seven.
19.
Tampa Bay Buccaneers: Connor Williams –
Offensive Tackle – Texas
Quick
take: Donovan Smith has performed admirably in his first two seasons since
replacing Donald Penn on the blind side. However, Tampa could use an upgrade on
the right side, where Demar Dotson turns 32 this season. Williams has been a
full-time starter since his freshman season and brings a lot of leadership and
experience on the offensive line. Some believe Williams could be the first
player selected at the position, so he appears to be a bargain at this spot.
20.
Denver Broncos: Derrius Guice – Running Back –
Louisiana State
Quick
take: Rumors swirled prior to the 2017 draft that Denver was enamored with
running back Christian McCaffrey. Part of that could be attributed to Elway's
relationship with McCaffrey's father, Ed. However, it's no secret that the team
was looking to upgrade as Jamaal Charles was brought in shortly after. A
long-term solution is needed and Derrius Guice could be that guy. I have a
feeling he steps in as Leonard Fournette's successor this season in Baton Rouge
and doesn't skip a beat.
21.
Detroit Lions: Christian Wilkins – Defensive
Tackle – Clemson
Quick
take: Wilkins is a true wild card heading into the 2017-2018 college football
season. He possesses all-world ability with his size and speed at the position.
If he can put together the dominant season for the Tigers that many expect, he
could be long gone by this pick. Detroit needs reinforcements at the defensive
tackle position and Wilkins can bring it.
22.
Miami Dolphins: Ronnie Harrison – Safety –
Alabama
Quick
take: It will be between Jordan Whitehead and Ronnie Harrison to be the second
safety selected behind Derwin James. For this exercise, I have Whitehead's
versatility getting the nod. Harrison could very well end up being the best of
the bunch, though. He was very good range and great size for the safety
position at 6'3", 216 lbs. He is a playmaker and knows how to find the ball,
evidenced by his two interceptions and two fumble recoveries in 2016, one of
which he returned for a touchdown. Harrison also blocked a field goal in 2016
and would be the perfect complement to safety Reshad Jones.
23.
New York Giants: Martinas Rankin – Offensive
Tackle – Mississippi State
Quick
take: Add me to the list of pundits shocked that New York did not spend more
2017 draft assets to address their offensive line. For a line that
underperformed vastly in 2016, both on the ground and through the air,
improvements are badly needed. Former first rounder Ereck Flowers looks best
suited for the right side, and that's where Rankins fits in. Rankins is a more
natural fit on the left side with his above average athleticism. He also has
load of experience facing off against some of the better pass rushers in
college in the SEC.
24.
Oakland Raiders: Bo Scarbrough – Running Back –
Alabama
Quick
take: While the Beast Mode story is a fascinating one in Oakland, it is likely
to be short-lived. This is another team with a long-term need at the position.
Scarbrough seems like just the type of bruising back that the silver and black
needs. He would do well to complement current starter Marshawn Lynch for a year
and take over the lead back duties full time in 2019.
25.
Cleveland Browns (f/ Houston): Jaire Alexander –
Cornerback – Louisiana State
Quick
take: It seems like Cleveland has been trying to add a decent complement to
All-Pro Joe Haden for years. They have struck out badly in 2014 with Oklahoma
State CB Justin Gilbert. He is no longer on the team, and they are still
looking for a decent option. Alexander is a sticky cover man for Louisville,
who collected five interceptions in 2016. He has decent size at 5'11" and could
be the answer at the position that Cleveland has been searching for.
26.
Seattle Seahawks: Bradley Chubb – Defensive End
– North Carolina State
Quick
take: Chubb barely gets the nod here over fellow pass rusher Tyquan Lewis. The
NC State product wears the same number as former top pick Mario Williams and is
by far the best pass rusher the school has seen since. He lacks the elite
athleticism of his predecessor, but he is a very good defensive end prospect in
his own right. He has great size and get off for the position. Chubb also
offers a great motor and offers similarities to current Seahawk Michael
Bennett.
27.
Buffalo Bills (f/ Kansas City): Deon Cain – Wide Receiver –
Clemson
Quick
take: Buffalo receives this pick as compensation for the Kansas City draft day
trade for Patrick Mahomes. Cain is another stud receiver in a long line of
Clemson pass catches to enter the NFL in recent years. It's only fitting he
slots in here to replace former Tiger Sammy Watkins, whose option for 2018 was
declined recently by the Bills.
28.
Dallas Cowboys: Derrick Nnadi – Defensive Tackle
– Florida State
Quick
take: Dallas continues their re-tooling and youth movement on the defensive
line here. With the selection of Taco Charlton, the Boys appear to finally have
some depth on the edge. However, there is not much depth to speak of behind
starters Maliek Collins and Cedric Thornton on the interior. Nnadi is solid
against the run and was a terror rushing the passer last season with six sacks.
He would add some real juice to the Dallas defensive line.
29.
Green Bay Packers: Tyquan Lewis – Defensive End
– Ohio State
Quick
take: Lewis is one of many blue chip prospects on the Buckeye's defensive line
this season. Lewis may not be as well-rounded as fellow rusher Sam Hubbard, but
he could very well be the better pass rusher of the two. Lewis racked up 10
sacks and 34 hurries last season and would add some nice edge depth behind
starters Clay Matthews and Nick Perry for the Pack.
30.
Pittsburgh Steelers: Cameron Smith – Linebacker
– Southern California
Quick
take: The Steelers lost long-time starter Lawrence Timmons this offseason to
Free Agency and fellow starter Ryan Shazier is injury-prone. The team is going
to give long-time backup and former Seminole Vince Williams the first shot at
replacing Timmons. Williams hasn't proved to be anything more than a
backup-level player in his career, so a long-term starter inside could be
needed. Smith is a physical linebacker and team leader in the Brian Cushing
mold. He is exactly what the team needs at this position.
31.
Atlanta Falcons: Quenton Nelson – Offensive
Guard – Notre Dame
Quick
take: Nelson is one of many intriguing prospects on a star-studded Notre Dame offensive
line this season. He would likely have challenged as the top player at this
position in 2017 and will once again compete for that spot in 2018. He's a
tenacious run blocker for the Irish and moves very well for such a big man. He
would be a perfect fit inside to clear pathways for stars Devonta Freeman and
Tevin Coleman.
32.
New England Patriots: Harold Landry – Linebacker
– Boston College
Quick take: Landry is just the type of
well-rounded pass rusher that New England could look to add to their defensive
unit. Breakout star Trey Flowers provided a nice story for the Pats last
season, but they could certainly use some depth at the position after losing
Jabaal Sheard and Chris Long to free agency. It is my suspicion will out-play
this selection by draft time, but he appears to be a nice fit here for the
Patriots if available.
There you have it folks. Proof that it's never too early…