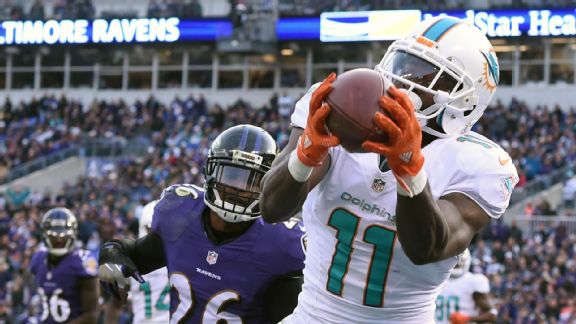 Wide receiver DeVante Parker
Entering his third season, DeVante Parker carries as much potential
as any player on this team, if not the entire league. The third season is
typically the benchmark or barometer for a young receiver's success or failure
in this league. He has tantalized us with his potential for two injury-riddled
and inconsistent seasons. This season, things are shaping up for Parker's rise
to stardom.
The Miami Herald's Armando Salguero recently wrote an
in-depth piece on Parker's noticeably improved offseason approach. He even
noted that Parker was "the most improved Miami Dolphins player this offseason".
The former Louisville Cardinal has coaches raving about his improved practice
habits and newfound dedication to the game. He is taking all the steps to keep
his body healthy enough to survive and thrive during the upcoming season.
The talent has never been a question for the former first
rounder, but Parker's health will be the biggest determinant in him reaching
the next level in his development. The team needs Parker to become that
dominant, go-to, alpha-type receiver they envisioned when they drafted him
number 14 overall back in 2015. The time is coming for Parker to join the NFL's
elite at the positon, and the Dolphins believe that time is now.
Defensive tackle Jordan Phillips
Another player from the 2015 draft class looking for a big
third season is Jordan Phillips. Like Parker, Phillips has flashed big time
potential in his first two seasons. He makes big-time splash plays on defense
that make you believe he could be an All-Pro at the position. If he can make
these plays on a more consistent basis that is a scary thought for opposing
defenses. Especially considering Phillips shares a line with All-Pro's already
such as Cameron Wake and Ndamukong Suh.
The team did add two players in the 2017 draft to compete
with Phillips as Suh's partner inside. Vincent Taylor and Davon Godchaux will
be solid rotational pieces for this season. However, if Dolphins want this unit
to improve, especially against the run, much will be on Phillips to step up. He
started 11 games last year and will likely enter 2017 as the starter next to
Ndamukong Suh. The 6'6", 335 pound behemoth could be a real terror this season
inside if some level of consistency can be maintained.
Cornerback Tony Lippett
Lippett took some really positive steps during the 2016-2017
season. Viewed as major project when first drafted as a converted receiver,
Lippett was a surprise starter for 13 games last year. The former fifth rounder
more than held his own in his first season as a full-time starter.
He is the prototype at the positon at 6'3" and is a long
defender that is pesky with receivers. Lippett has also shown a penchant for
forcing turnovers, collecting four interceptions in 13 games. The Dolphins
showed a ton of interest at the position during the draft, but I believe at
least one long-term answer is already on the roster. If Lippett continues to
improve on his technique and hot finish to last season, he could be a stalwart
in this secondary for a long time.
Offensive Tackle Laremy Tunsil
Just because it's obvious doesn't mean it's not true. After
spending his rookie at guard, many are expecting Tunsil to make a seamless
transition to Ryan Tannehill's blindside at left tackle. He was dubbed by
NFL.com's Gil Brandt as a "Hall of Fame" talent prior to the 2016 NFL Draft.
Tunsil has the looks of a future All-Pro at the Left Tackle position. If he can
continue on his current trajectory, he should have a very nice 2017 season and
leave the Miami Dolphins very pleased with this one time risky investment.
Tunsil had a very productive and inspiring rookie season.
Much will be expected from the sophomore, as Miami looks to make a push deep
into the playoffs this season. The team traded Brandon Albert to Jacksonville
this offseason, so they clearly believe Tunsil is up to the challenge. It will
be just that, as he will be playing next to a new starter at LG. Isaac Asiata
and Ted Larsen will battle for that spot this offseason and the line is
depending heavily on the left side of the line to step up. Laremy Tunsil
figures to do his part and may be the safest bet overall on this list.
Cornerback Xavien Howard
Double the fun and expectations at the cornerback position.
Howard was drafted in the second round last year to be a starter on this team.
He started 6 games in his rookie season, but struggled to stay healthy. This
seems to be the biggest knock on him since his days at Baylor. There is no
question, he has the size and playmaking ability to hold up on the outside, he
just has to stay in good health.
Even though both Tony Lippett and Byron Maxwell exceeded
expectations in 2016, Howard is expected to be given every chance to compete
for a starting job. However, with the team also adding Clemson CB Cordrea
Tankersley in the draft, competition will be stiffer than ever. Howard figures
to push Bobby McCain for slot duties as well, before potentially taking over long
term for Maxwell
after 2017. Rumors have circulated
recently about the team moving on from Byron Maxwell after 2017, so Howard
figures to have a big role on this team this year and beyond.