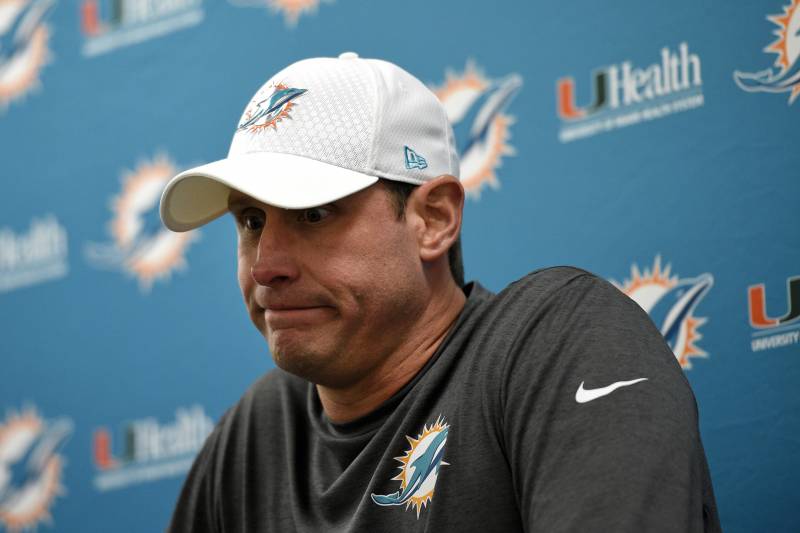 We all know the stunning turn of events yesterday morning, when the Dolphins sent their starting running back to the Eagles for a 4th round pick in 2018 draft. While on the surface it was shocking, I personally don't see it as a bad thing. Ajayi seemed to have frustrated Gase by not doing the proper things on the field and was becoming 2016 week 1 Jay Ajayi in the locker room. Gase had enough and sent him packing. The Dolphins need to move on, but it's hard to imagine how this makes the "offense better".
So where does Adam Gase and the offense go from here? The Dolphins are dead last in the league in pretty much every offensive category. With Ajayi and his 450+ yards gone, how does the offense get on track? Here are a few thoughts on how the Dolphins can get the offense back on track:
1. Kenyan Drake as the lead back– I was kind of chastised for mentioning this last year. I am still a firm believer that having a home run threat at running back can change a defense and their mind set. Drake is a shifty, quick runner with the ability to break open a big gain if given the chance. I think Gase gives Drake the starting nod, with Damien Williams still handling most of the short yardage and third down role. In case you forgot what Drake can do:
2. Stop being predictable– I am not sure if this had anything to do with Ajayi not hitting the right hole on run plays, but it seems each team knows what we are doing based on scheme and formation pre snap. The bubble screens that worked for awhile, maybe has a long of 3 yards this year. Most of those bubble screens are negative plays. Also not enough blockers on those plays to even spring someone. Defenses stack the box, play press knowing we are throwing short. It is time to get creative and get the offense to open up more. Stop running the same plays over and over again when you know defense are prepared for it.
3. Stop outsmarting yourself- Raise your hand if you see play calls on third and short go for play action passes trying to outsmart the defense. How many times did that play call fail? The Dolphins need to solidify drives and getting first downs. But doing so with play calling that may be predictable but at the same time is a higher percentage play call
4. Stop playing from behind- All season long, the Dolphins have to play from behind and that pretty much puts the game plan to bed. You become more predictable when you are down 2 scores in the first half, let alone the first quarter. Start fast, get first downs, win the field position battle.
One player being moved, albeit one of our better players, doesn't stop the problems. Maybe what i have above doesn't solve the problems either, but something has to be done. The season is not dead. Being 4-3 with important games against Oakland, Carolina and New England on the horizon, it is important to get these issues resolved and keep finding ways to win games. Ryan Tannehill isn't walking through the door to help on offense. It is up to each of those players in that locker room to come together and win. Adam Gase has proven they do not quit, will the trade be a wake up call or their un-doing? Time will tell, but everything starts with Gase and the offense.