Minkah Fitzpatrick.
The young 21 yr old Safety from Alabama. Drafted by the Miami
Dolphins with the #11 pick in the 2018 draft. Whether you like the pick or
not, this makes a TON of sense for the Dolphins. Among MANY mock drafts, Fitzpatrick was
slated as a top 5-10 pick in the draft.
The QB frenzy that was 2018 played into the Miami Dolphins favor.
At 6'0", 204lbs, Fitz fits the mold of what you want in the
FS position. He is a 2x Nat'l Champ
while playing for Adam Gases mentor, former Dolphins coach/traitor, Nick
Saban. Starting as a freshman, Fitzpatrick
earned Freshman All-American, as well as Freshman All SEC. Tall task considering the talent Bama has
churned out in recent years.
As most fans should know, Adam Gase has the utmost respect
and trust in his former mentor, Nick Saban.
While Dolphins fans may have a disdain of one Nick Saban, truth is, the
man is one of the greatest coaches to ever walk the sidelines. So, fandom aside, I trust Dolphins brass and
their approach to this 2018 NFL 1st round draft pick.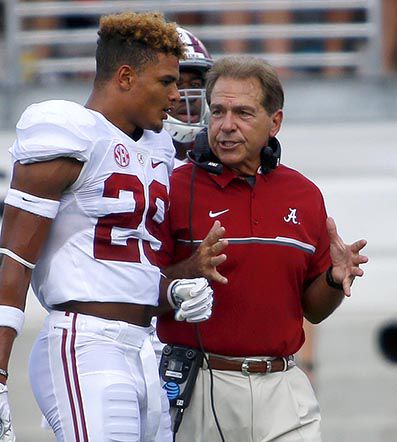 Fitzpatrick is a great chess piece for the Miami Dolphins
defense. He can play multiple positions
at a high level, and Fitzpatrick is a
player that Coach Saban absolutely adores. He doesn't back down from challenges.
Saban on Fitzpatrick:
"He's phenomenal. He does it every
day. I've heard guys say they save it for the game and they aren't worth a
shit"
He is a field general.
A Leader. Today's NFL offenses
call for NFL Defenses to play more nickel/dime packages. New England ran these packages on almost 90% of their play calls. He can play FS, SS, & Corner. Fitz has a TON of versatility, works hard,
and is as NFL ready as they come.
The Ftizpatrick pick also allows Miami to use TJ McDonald as a hybrid OLB in Nickel and Dime Packages. McDonald, 6′ 2″/230lbs, is roughly the same build as Kiko Alonso. He flashed at times in this hybrid role during his 4 seasons with the Rams. Essentially, Miami killed two birds with one pick.
The popular pick was that Miami was in LOVE with Josh
Rosen. I have said all along, this was a
smoke screen put on brilliantly by the Miami Dolphins front office. All offseason, Miami has promoted QB Ryan
Tannehill as the man who can get the job done.
Rightfully so.
Most recently, we posted an article
(Curious Case of Ryan Tannehill)
stating reasons as to
why Tannehill will succeed in Miami. The
fact they didn't reach for one of the Fab Four QB's should tell everyone what
they think about Ryan Tannehill. Adam
Gase is putting HIS team together.