What a week it has been. From Reshad Jones taking himself out of a game because Fitzpatrick was being rotated in for him something he somehow didn't understand was going to be happening, to Gase saying that everything is good with him and Jones while indirectly saying that it was Matt Burke's communication that was the problem in the first place, to Tannehill proclaiming to be coming back on Nov. 25th only for every Dr. in the world to come out and say that he has a better chance of not playing again this year than playing against the Colts, to Gase and the Dolphins getting fined for playing fast and loose with the injury report regarding Tannehill. On top of that, you have the domino effect of injuries that is occurring throughout this team let alone this recent news…
Adam Gase said LG Ted Larsen is likely to be doubtful for Sunday vs. Packers. Could be Jake Brendel or Wesley Johnson replacing him. Laremy Tunsil and Ju'Wuan James likely to be game-time decisions. OL is banged up.
"You got a pulse, you're in the mix."

— Cameron Wolfe (@CameronWolfe) November 9, 2018
All this happening in one week and you have a pretty regular week for the Miami Dolphins. This is what this team has been for the majority of my Miami watching life. They are a bizarre franchise that has the some of the most ridiculous, seemingly avoidable situations happen to them regularly. So all this happening in the same week is par for the course. Oh and they're also 5-4. This cast of backups stacked on top of backups are above 500 and currently 7th in the AFC with the Bengals having a tough string of games ahead of them. People want Gase out of here, and at times he looks like he should be bagging groceries, but he has this team at 5-4 and let me tell you, they aren't good. This is a bad football team and we all know it. Yet, they're hanging around and making things interesting as we head into the heart of November. We travel to Green Bay this Sunday to take on a team that has lost two in a row, albeit against the Rams and Patriots, who appear like they're dying to implode and by implode I mean Aaron Rodgers wants to super kick Mike McCarthy into space. Green Bay still has that clout that the best teams get, but they aren't world beaters. Miami are big time dogs in this game, but there's a recipe out there for them to shock the world. If they accomplish these goals I have for them, then they can change the minds of the entire football watching nation.
The D-Line Needs To Keep Playing Nasty And Bring Rodgers Down To The Ground, Not Let Him Bounce Around And Make Big Improvised Plays
This is of course is easier said than done I know, but it still needs to be said. I fully believe that this game comes down to how comfortable or uncomfortable Rodgers is back when he drops back. So far this year he's been sacked 23 times. If my math is decent, that puts him getting taken down to the Earth near 2.5 times a game. He's less mobile than usual due to his knee so keeping him bottled up is paramount.
Last week, Wake and Specne each had two sacks on Sam Darnold and the floundering Jets. Those plays played major dividends in netting the Dolphins their 5th win of the season. The same needs to happen if Miami is going to dream of sticking with Rodgers and the rest of the little Aaron Rodgers. Can't have any of those moments where they get to him and he hits circle and spins out of it only to get flushed to either side of the field and find one of his unheard of  receivers for a huge momentous gain that sucks the life out of Miami as if he's Shang Tsung.
Who Ever Is Out There Playing Offensive Line For Miami Need To Do Something, Anything
When the head ball coach says that "if you have a pulse, you're in the mix" then you know we aren't going to be working with the cream of the crops. More like the dirty roots is what the Dolphins will be working with. Seems like Miami's offense especially the Brocksmen is in for another long day. Who knows though? Remember when there were injuries all over the O-Line against the Bears and they came out with pride and sat Khalil Mack and the rest of the d-line down? I do. Maybe that could happen again. Miami will be inserting Issac Asiata, Jake Brendel, Wesley Johnson and their new revolving door Zach Sterrup. As far as I know, all these guys have pulses, so these guys will be asked to carry a lot of the load. An even quicker passing game is going to be needed to help Osweiler. A running game that can control the clock would also do wonders for this squad. I don't know, maybe get Kenyan Drake involved. I'm told he makes plays.
#FreeGesicki
You know what would take a lot of the pressure off the defense from having to do everything? A firm dose of everyone's favorite New Jersey pass catching TE native, Mike Gesicki. Wouldn't that just be so dandy? Honestly, it would be nice if he was part of any game plan that Gase or anyone else on the offensive staff came up with. Miami consistently avoids the middle of the field. Not sure if you realize this, but the middle of the field is a big part of the field. You draft Gesicki in the 2nd rd. knowing what his skill set is and you go against the grain, in typical Miami fashion, and don't use a guy like everyone else in the galaxy would use him. I keep saying that the coaches are the ones seeing him everyday and who am I to think I know more about the progress of Mike Gesicki but then I think to myself that I am the Capt. of the #FreeGesicki ship and I know my man can run down the middle of the field past LBs and go up and catch footballs. The Packers would never see it coming if Miami utilized that area of the field. A sneak attack right in front of the enemy is just what could happen if Gase has it in him to unleash Gesicki.
Brock Osweiler Has To Connect On Chunk Plays
I don't want to say that Brock Osweiler is disrespecting the name Brock, but if he continues to miss open deep ball throw after open deep ball throw then he will be on a one way ticket to Suplex City. We've seen it, we live through it every week. Miami runs play actions and some how it works and there's a receiver running downfield with no one around and Brock over throws him by a bunch. You think to yourself, no way Miami gets another chance like that again today, and you're right. Miami usually gets all but one chance to hit on a deep ball a game. So, when that one time chance happens, Brock needs to deliver. I wouldn't expect Miami to score a ton of points against Green Bay because Miami doesn't score to many points against anyone. If they want to hang around in this game, then they need to hit on the opportunities when they're there for the taking. Brock knows that and if he doesn't come through then it's a date with the Beast Incarnate.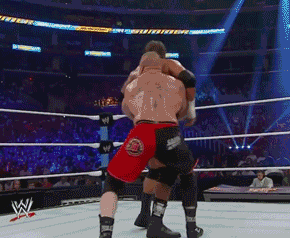 Use The Mantra Of It's Us Against The World As Fuel To Play As A Cohesive Team 
Nobody thinks this team can do anything. Vegas certainly doesn't have much appreciation for the Fins as they currently have them as a 9 point dog. Any power ranking you find has Miami around the back half of the league. Most of the fans on-line or off-the-line think Miami can't really accomplish much of anything. All the craziness and stupidity that has surrounded this team week has given them all the evidence they need to think that. I suppose I can't really blame them, but then I think about how craziness and stupidity is the world that this team always lives in. These conditions should be nothing new for the Dolphins to deal with. It's because of that thought why I think Miami hangs around in this game. Just when you think there's no good reason for Miami to be able to keep up with a team or even beat them they go out and hit on all cylinders as if this was part of their master plan. There's no rhyme or reason to it, it just sort of happens. They should get killed and then in the 4th quarter they're down only 3. I guess they operate better when there is no pressure. That's how they need to look at it. No one expects anything of merit from them other than to lay down. Perfect opportunity to go out there and strangely give the Packers everything they can handle. And lets face it, the Packers aren't that good either. We all know their one move and that one move is Aaron Rodgers doing everything. Make the other guys on that team beat you and you have a good chance to shock the world. Make life easy for Rodgers and he'll embarrass you. Go in there with the right attitude and you can hang. Don't forget the mantra
Follow me @2ndSatSports
BE SURE TO FOLLOW US ON FACEBOOK:  CLICK HERE