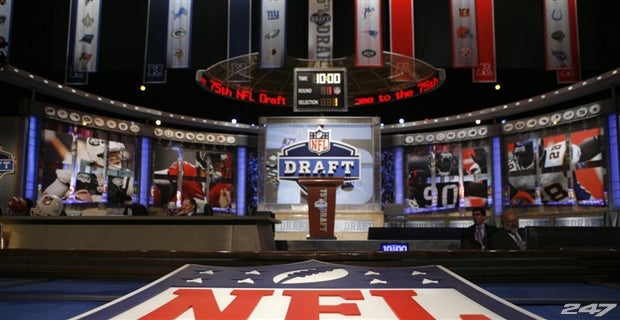 NFL Draft week is upon us. This is the time of year we receive new hope for our beloved franchise moving forward. We here at DolphinsTalk.com decided to
take a look back at the Dolphins BEST draft picks by Offensive position. Now there is no perfect formula in the draft
process, as each draft has their share of ups and downs. Today we focus on Offense.
As you'll see here, some of our best players were found in
later rounds.
Feel free to leave your thoughts in the comments below.
Here we GO!
QB: Dan Marino*
(Pitt)
–
1983; Rd 1, Pick 27
; This one speaks for itself. Miami took the future HOF in the elite class
of 1983 draft with the 27th overall pick. Rumors of cocaine use in college played a
part into Marino sliding to Miami late in round 1. *HOF Class of 2005. Could this Thursdays draft provide another
great talent to slide to Miami?
RB: Larry Csonka*
(Syracuse)
–
1968; Rd 1, Pick 8;
No better choice at the
RB/FB position than one Larry Csonka.
Defenses feared his running style.
Strong, bull dozing type back was the cornerstone to Miami's 1972
undefeated season, as well as Miami's three straight Superbowl run in the early
70's. *HOF Class of 1987
WR 1: Nat Moore (Florida) – 1974; Rd 3, Pick 78; Not the flashy guy,
not the speedy guy, Moore was just a do all type guy. Although he reached the pro bowl once in his
career, his 74 TD rec are only 2nd to another guy on our list.
WR 2: Mark Clayton (Louisville) – 1983 Rd 8, Pick 223; EIGHTH round? Yes the NFL had as many 20 Draft rounds in
the 1966 inaugural Dolphins season. 5x
Pro-Bowler Clayton is the franchise leader in TD Rec.
WR 3: Mark Duper
(NW LA ST)
–
1982 Rd 2, Pick 52;
Small, but speedy, Duper formed the
Marks Brothers with fellow Mark (Clayton) in 1983. 3x Pro Bowler Duper is the franchise receiving
yards leader with 8,869 rec yards.
TE: Randy McMichael
(Georgia)
–
2002 Rd 4, Pick 114;
Miami has not had a great history of
drafting at the TE position. While
McMike was a solid TE, he is considered by some to be the best TE pick Miami
has made in its franchise history. That's
saying quite a bit considering McMichael was a middle of the road TE. He is the Franchise leader in TE Rec, Yards,
and TD's. Could 2018 Draft class change
this course?
C:
Dwight Stephenson*
(Alabama)
–
1980 Rd 2, Pick 48;
Another GEM. Stephenson anchored a Miami Dolphins line
that surrendered the fewest sacks for 6 straight seasons. An NFL record. NFL Man of the Year (1985), NFL All-Decade
Team (1980's), 5x All-Pro, 5x Pro-Bowler. Stephenson had his career cut short due
to a knee injury and retired in 1987. *HOF
class of 1998.
G: Ed Newman (Duke)
–
1973 Rd 6,
Pick 156;
4x Pro-Bowler, 3x All Pro, Newman went to 3 Superbowls with Miami winning one (1973). Newman's career was cut short due to knee injuries and overcoming thyroid cancer in 1985.
T: Richmond Webb
(Texas A&M)
–
1990 Rd 1, Pick 9;
Richmond Webb had one
job. Protect the Franchise blind
side. With NFL sack king Bruce Smith in
their division, Webb was the man in charge. 7x Pro-Bowler, 2x All-Pro had a
fantastic 11 year career with Miami, and earned him an induction into the Miami
Dolphins Ring of Honor in 2006.
Honorable Mention:
QB: Bob Griese
RB: Mercury Morris
WR: Jarvis Landry
WR: OJ McDuffie
TE: Jim Mandich
C: Mike Pouncey
G: Keith Sims
T: Jake Long
Miami has had its fair share of draft success as well as draft busts. Wednesday we will follow up with the Miami Dolphins BEST Defensive players draft history. Will Miami have great draft success in 2018? One could only hope.
Leave us your opinion on whom we may have missed.