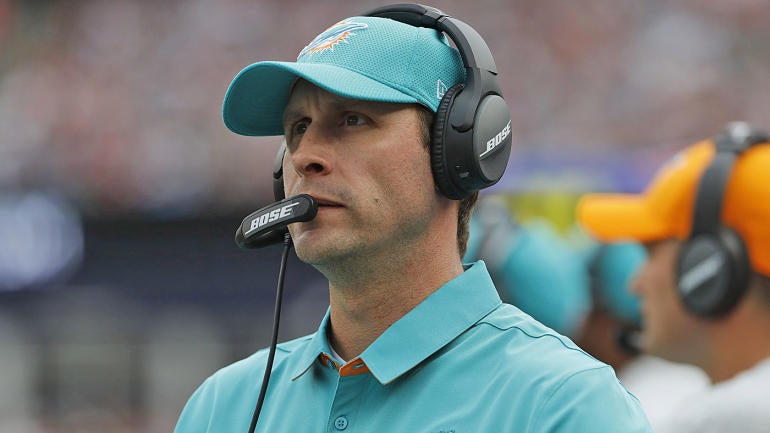 As we move through mandatory mini-camp, one topic came up that, personally, I didn't think we would see. Adam Gase and others have stated they are going to run the up tempo offense that Gase tried to run (unsuccessfully mind you). The team was sluggish out of the gate. Take a look at the offensive numbers in the first 5 games in which they ran the up tempo in 2016:
Week 1- Seattle (12-10 Loss)- 214 yards of total offense, 3/14 third downs, Time of Poss. 25:28
Week 2- New England (31-24 Loss)- 457 yards of total off., 5/10 third downs, Time of Poss 23:14
Week 3- Cleveland (30-24 Win)-
426 yard of total off., 2/10 third downs, Time of Poss 29:12
Week 4- Cincinnati- (22-7 Loss)-
226 yards of total off., 2/11 third downs, Time of Poss 21:58
Week 5- Tennessee- (30-17 Loss)-
200 yards of total off., 4/11 third downs, Time of Poss 23:16
After looking at the above, you can see the narrative. The offense was below 250 yards of total offense in 3 of the first 5. Average time of possession was 24:46 per game. That means the opposition had the ball for 35+ minutes. Now, in part, that has to do with the whopping 28.5% third down conversions in those 5 games. Adam Gase saw this as a problem and the team slowed down their approach. We know what happened in the next 6. The Dolphins ripped off consecutive wins. Here is a quick break down of how the offense performed when slowing down:
Weeks 6-12 (bye week 8)- 356 yards of total off avg, 40% third down avg, Time of poss 31:55 avg

So is this a good thing the Dolphins want to run a fast paced offense after failing miserably last year? My answer is yes. Here is why:
–Familiarity of the system– Nothing new is being installed
–Comfort– Gase knows the players and what each can do. He can now maximize their talents
The biggest reason why Gase is wanting to do this is two fold. He understands, to be successful, he needs a running game. Jay Ajayi feasted last year with 3 200 yard games, as well as flashes of an our of the back field receiver. You can still run a fast paced offense with a solid ground game. It definitely will be difficult for defenses to know how you are going to run your offense when things click that way. In 2014 in Denver, Gase had the 15th ranked ground game (111.6/game) and 4th in passing (402/game). This is the offense that he wants to run, which brings me to fold number two. ADAM GASE BELIEVES IN RYAN TANNEHILL AND HIS ABILITIES TO PROPEL THIS OFFENSE. Gase takes Ryan's input every day watching film, seeing through Ryan's eyes and helping him correct his mistakes. You can see how far he came on last year until his injury abruptly ended his season. With no limitations on his knee, Gase is expecting the multiple reasons listed above, with Ajayi and Tannehill to provide the spark this offense has been lacking for so many years.
Any hesitations? Sure. The team could completely fall on their face. This years schedule opens up a little bit easier than last years, (5 winnable games to begin the season against potential inferior opponents). If the offense doesn't click, can they catch up like they did last season? It's hard to say, and I am not one to predict so early on before any training camps, free agent signings and preseason games are played.
The only way to tell if this is actually going to work is to practice it hard, day in and day out. Run it in preseason games and make your determination prior to week 1. Gase cannot wait until week 6 to make a change, this year is far too important. Building off a 10-6 season is important, and can continue to grow continuity. But go, go, go. Run high octane until you have to make the switch back to regular octane if that's what works.
@ternisse13


Follow on Twitter: @DolphinsTalk
Visit DolphinsTalk.com